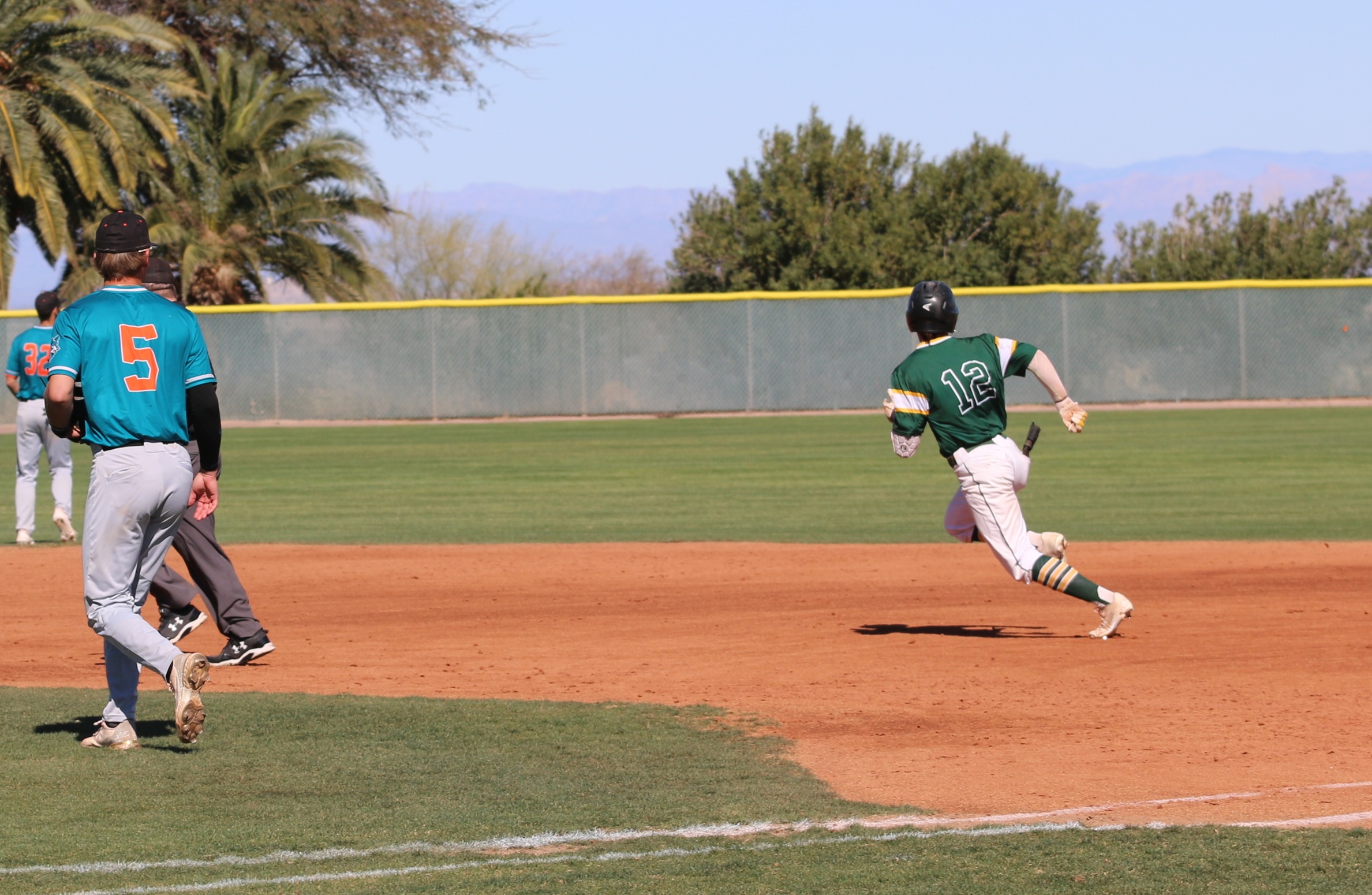 Tyson Is Just Too Much For 'Yotes-Vaqueros Take 5-1 Win
-Blade Contributing Writer Central Arizona College Baseball
(Signal Peak) - It doesn't happen every game and when it doesn't happen, you walk off the field with a full agenda for the next practice. And when it does, you walk off the field at the end of the game pretty durned happy.
You play a clean game.
Base running, defense, smart hitting, smart pitching, smart coaching, and above all, as the head coach will tell anyone who will listen, "limit freebies and don't give them anything".
That's pretty much a clean game.
"That's what I am really impressed with lately" said Central Arizona head coach Anthony Gilich.
"We are limiting freebies. I love a clean game, and we didn't give 'em much."
Central Arizona College moves to 23-4 on the season with a 5-1 win Friday afternoon over Chandler-Gilbert Community College at McSwain Field.
Tyson Heaton won his fourth game, almost over-powering the 'Yotes even though he seems to be a pitcher who is sneaky and throws to bad contact. CGCC managed six singles off him, but the only run they scored was unearned.
"He's been consistent" continued Gilich.
"He missed a lot of barrels today. He works really hard to get the most out of himself. He has a high-compete tool."
The high fastball Friday seemed out of reach for the Coyotes, and Heaton threw a fabulous six for the win. Relievers Cody Brooks and Liam Evans kept the doors slammed shut that Heaton slammed in the first place.
Watch down the road the rest of this year.
It's about bullpens.
Central has a quite reliable 'pen, while many others seem to struggle after the starters are out. This is especially important in the post-season marathon.
Chase Valentine doubled twice, Jaylin Rae, Devon Dixon, and Ryan Ball doubled also, and while Central had only seven hits, five of them were doubles.
SS Chase Valentine has two of five Vaquero extra base hits.
In the top of the fifth, a Coyote really got a hold of a Heaton pitch and slammed a rocket sizzler on the ground to third baseman Vinnie Lagatta who was playing in expecting a bunt.
You hear the nice clean "POP" in his glove, followed by laser throw that hit today's first baseman Tyler Griggs right in the chest.
"That's a special play" you say to yourself.
"Lagatta is just playing great defensively, he's hitting well, the game is just slowing down for him" said Gilich.
It's the annual night game at Chandler Gilbert this evening at 6:00PM, then spring break for students but baseball is slammed all week, then away games in the regular season-ending 16 of 18 games.